I wrote to my MP a while back (when I was still living in the UK) about settled status, I had been monitoring the stream of Henry VIII power statutory instruments and spotted a bit of a problem.
Dear Jeremy Hunt,

I note with interest the draft statutory instrument "The European
Institutions and Consular Protection (Amendment etc.) (EU Exit)
Regulations 2018"


This instrument was prepared by the Department for Exiting the European
Union and it removes the directly effective treaty right that enables
EU27 citizens to be provided with consular assistance at our embassies
in the event that their member state does not have an embassy.

The natural consequence of the decision of the 52% to do Brexit is that
UK citizens will no longer be able to get consular assistance from EU27
embassies and vice versa. This is as expected and is harmful to both
sides, but throwing away the reciprocal benefit can only be the desired
result.

The error that is being made in this statutory instrument is to fail to
consider the situation of people with settled status. A person with
settled status in the UK should be afforded consular assistance from UK
embassies wherever they are in the world without having to rely on
their home state having a diplomatic presence. Failing to provide
continuing consular assistance to people with settled status does not
live up to the promises that their rights will be preserved after
implementing a Brexit.

Yours sincerely,

Alan Bell
He passed it on to Robin Walker, and I received this reply today: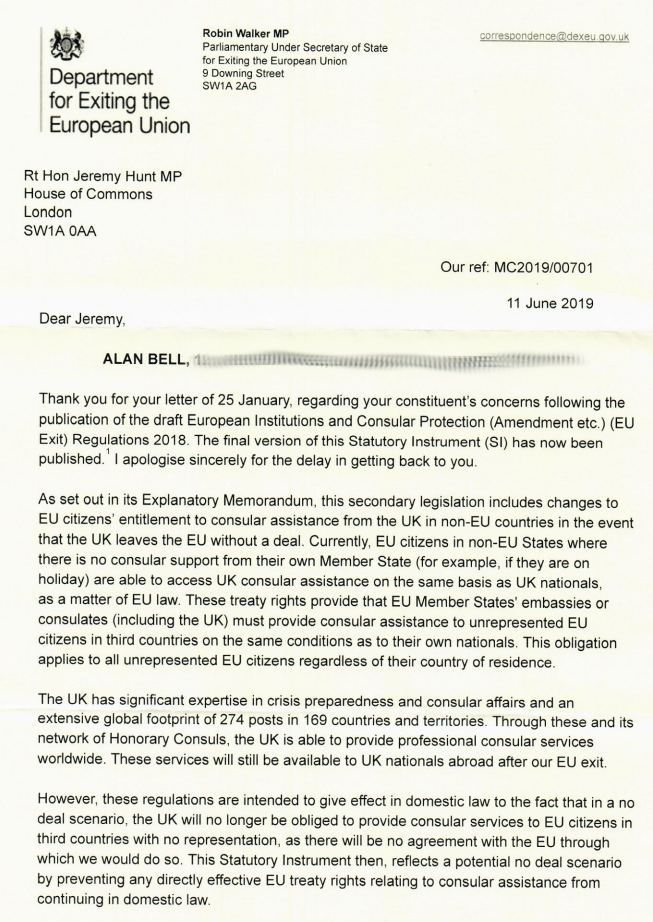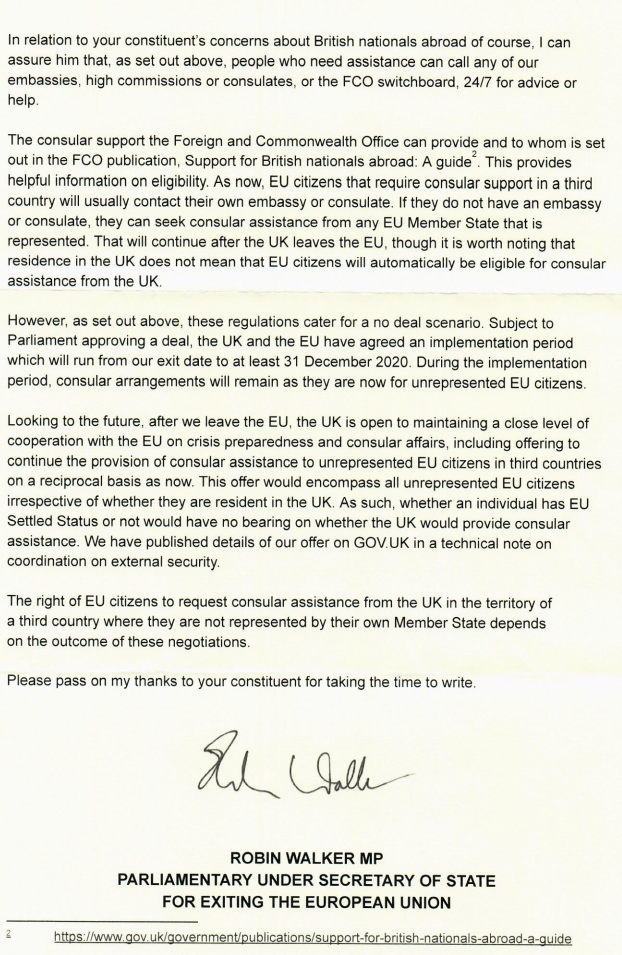 So, nothing special for people with settled status, but the UK is considering offering consular assistance to all unrepresented EU citizens – on a reciprocal basis. Can the EU even offer that? Did it even come up in the negotiations?
This is a bit of an edge case, there probably is no country where there is a UK embassy but no other EU27 embassy, so people with settled status will be able to ask for assistance at an embassy – but not the UK embassy, because settled status does not preserve that right.